Well, look what met me earlier this week from FedEx: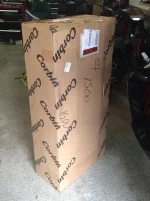 Wonder what this could be?
Installation wasn't as easy as I'd expected. First of all, the Corbin instructions were incorrect - said to remove 6 bolts with hex key - my bike had 4 bolts and 2 nuts. Took some effort to get my seat off and then had a bugger of a time installing the new Corbin seat. Of course, I was overthinking in the heat and just needed a fresh start on a cooler morning. I got it working, but it is not as smooth operating as the stock seat, and I sort have to adjust it to get it to fit exactly.