I have an extra, real-deal BMW service and repair manual (on DVD ... good luck finding a printed copy).
I just used this to change coolant, brake fluid and oil + filter on my 2017 C 650 GT. Maintenance on this bike is surprisingly easy, and much more affordable than going to a BMW dealer.
DVD includes BMW C 650 GT 2012 - 2017 ... BMW C 600 Sport 2012 - 2015 and BMW C 650 Sport 2016 - 2017.
Astoundingly, it also includes all BMW models in the K, F, R, S and G series. Meaning, whether you have an R 1200 GS or a G 310 R, it's on this DVD.
You can buy it on bikebandit.com today for $111.17.
I will sell for $65 including two-day Priority Mail shipping (U.S. only).
IMPORTANT NOTE: The DVD will ONLY run on PC's with Windows.
I'm an Apple guy from phone to laptop to desktop, so I had to buy a Lenova laptop and LG DVD player at Best Buy last Christmas. If you need those, you can have both for an additional $100.
I'm on PayPal or will take a personal check. Once the check clears into my account, I'll put your goodies in the mail same day.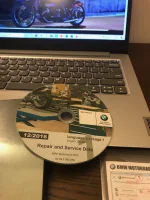 Last edited: