UPDATE: If you're searching for info on replacing a TPMS sensor (RDC, Reiffendruckkontrolle), this thread starts with GS-911 but segues to the Motoscan app and OBDLink, which turns out to be a simple, effective and cheaper way to change your own sensor.
Debating whether to invest in GS-911 to fix a failing TPMS sensor ....
Specifically, I have a 2013 BMW C 650 GT with a failing rear TPMS sensor. It works perfectly half the time; the other half, the bike screen shows two dashes and I get the yellow triangle of death warning (!). I've read the batteries in these sensors last from 5 to 7 years. With a 2013 that's now 8 years old, all signs point to a failling battery/bad unit. The front sensor, on the other hand, functions flawlessly.
My two main options:
1) Get a new sensor installed at the dealer. They quoted $300 for everything -- new sensor, tire off the bike, debead it, install the new sensor, bead the tire and put it back on the bike. They say I can save $20 by bringing the tire in, which I may do to have a car available so I don't have to wait or Uber 40 miles home. The dealer isn't exactly around the corner. I'm in no particular rush, but they are taking appointments now for one month in the future.
2) Get the GS-911, a Chinese knockoff sensor, a sensor learning tool, take the tire off the bike and drive it to a Suzuki dealer nearby to have the sensor put on the tire, then I'll bring it home, plug it in to my round, 10-pin connector under the seat, and "teach" the sensor and bike to talk. I have zero experience with this option.
I don't foresee many other uses for a GS-911. I could turn off the "SERVICE" light that's been on since I bought the bike two weeks ago, but it's so small and unobtrusive I never notice it. If something goes wrong in the future, a GS-911 would great to have. It's a certainty I will own another GT in the future, most likely a late, low mileage model.
One other factor. The beat up Dell laptop I bought for $80 on Facebook Marketplace to run the BMW service manual has 1M of RAM. HexCode, makers of GS-911, "recommends" 2M. Does "recommend" mean it's helpful but not necessary? Does GS-911 WiFi run on Apple products? I have iMac desktop, Macbook Pro laptop and iPhone 11.
Thoughts? Experience?
Thanks.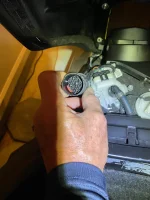 Last edited: